The General Department of Customs is conducting a wide consultation on the draft Decree amending and supplementing articles of Decree 08/2015 / ND-CP on customs procedures; customs inspection and supervision.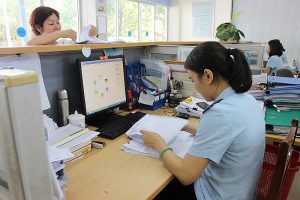 Operations of customs officers of Da Nang Customs Department.
This Decree will inherit the contents of Decree 59/2018 / ND-CP, which is currently being applied stably, without problems; as well as add contents to amend Decree 08/2015 / ND-CP and abolish Decree 59/2018 / ND-CP.
According to the General Department of Customs, the draft Decree aims to unify contents of the prevailing legal documents: the Law on Tax Administration No. 38/2019 / QH14, Decree No.85/2019/ND-CP dated November 14, 2019 on the implementation of administrative procedures under the National Single Window, the ASEAN Single Window and specialized inspection of exported and imported goods, Decree No.82/2018/ND-CP dated May 22, 2018 on the management of industrial zones and economic zones and the scheme on reforming the model of quality inspection and food safety inspection for imported goods at the border gate.
At the same time, it will amend and simplify administrative procedures, ensure transparency in the implementation of administrative procedures, facilitate enterprises in the import and export of goods, entry and exit of means of transport.
The Decree is revised to conform with international commitments to which Vietnam has acceded, such as: the European Union – Vietnam Free Trade Agreement (EVFTA), Mutual Recognition Agreement on Authorized Economic Operators of Vietnam Customs and South Korea Customs and the Contract to host Formula One (F1) race between Formula One World Championship Limited and Hanoi People's Committee.
To consolidate the legal basis for customs information, value and competence in post-customs clearance inspection and anti-smuggling investigation; and to improve compliance with the law of the customs declarant.
To ensure the constitutionality, legality and consistency with the legal documents that have been amended, supplemented and compatible with international treaties related to customs.
The main contents of the draft Decree relate to the following groups of issues: customs procedures; National Single Window mechanism; customs inspection and valuation; the management of authorized economic operators; the management of processed and produced goods; customs procedures for goods in transit; customs procedures for other goods temporarily imported for re-export; customs procedures for luggage of people on entry and exit; post-clearance audit; anti-smuggling; bonded warehouse management; customs procedures for vehicles on entry and exit and management of road and inland water means of transport.
Source: Customs News